INTRODUCTION

I have finally gone blue. I got my SonyEricsson t68i a few days ago and today I got my IOGEAR USB bluetooth adapter from Amazon. Before I went ahead and invested in all of this though, I wanted to find out more about bluetooth connecting with my ibook but I couldn't seem to find any decent information. Also the biggest problem I had was with the Dlink bluetooth adapter, every review or mention about Macs and bluetooth focused around only the Dlink adapter but its simply impossible to get a hold of! The adapter is on backorder since forever and there seems to be very little information on any other adapter that would work correctly with OS
IOGEAR USB BLUETOOTH ADAPTER SHORT REVIEW

Since I was having problems getting a hold of the Dlink I decided to go ahead and take my chance with the IOGEAR adapter. It cost me $42 off amazon plus they give you a $10 rebate which puts the price down to just $32. Very reasonable. Down below I have some pictures of the unpacking. The adapter came with a CD full of drivers and software, a USB extension cable, an instruction manual, and a funky strap which you could attach to the adapter so you could carry it around in style.. or something. Its a gorgeous device and looks like it could take a beating, a perfect companion to my already abused ibook.
SETTING UP THE ADAPTER TO MY MAC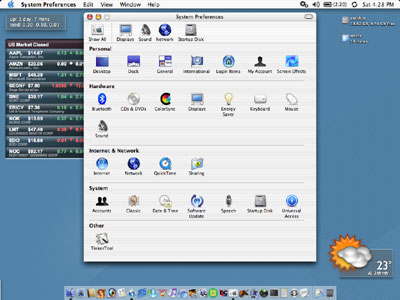 OK, I heard about plug and play years ago but I have never in my life experienced plug in play like I did today. To setup bluetooth on your Mac all you have to do is plug in the adapter into the USB port. That's it, nothing else at all. When I first plugged it in I thought nothing happened, there was no popup screen informing me about bluetooth or anything. Then I checked the System Preferences and there it was, the bluetooth icon! That was the smoothest hardware install ever!
SETTING UP MY PHONE WITH MY MAC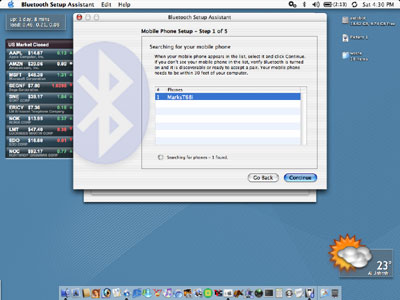 After the very easy and quick bluetooth install I wanted to go ahead and install my phone, that was also a simple process. You just go to the bluetooth preferences and click on pair new devices. It will also ask you if you want to share your phones internet(GPRS), Calendar and Address Book, I said yes to all threee of course.

SYNCHING THE PHONE, THE IBOOK, THE IPOD AND MY CLIE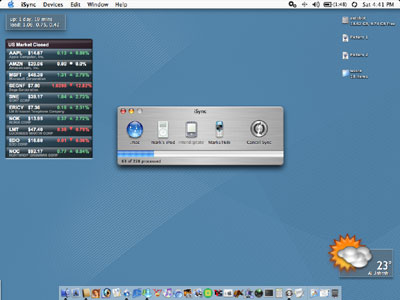 After pairing up my phone to my ibook I ran isync and to my amazement I found the t68i had already been installed there automatically. All I had to do then was just click on sync and everything just copied onto my phone.


SMSING AND CALLING FROM IBOOK

OK so I have my phone synched with my ibook, is that all I can do? NO. If you open the address book with bluetooth installed you will notice there is a tiny bluetooth icon. Clicking it on it will connect your address book to your phone. Now you can receive and send messages from your ibook plus make and receive phone calls. This is really the coolest thing. Not only that but you can also use your phone as an external modem and if you have GPRS you can also now use it to get online from anywhere! For a better detailed explanation of this you can go here.
PALM TUNGSTEN T, BLUETOOTH AND YOUR MAC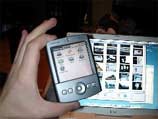 Well after realizing how incredible bluetooth was, I gave my younger brother my Clie and went out and purchased a Palm Tungsten T. Setting it up to work with Isync and bluetooth was a snap. I can now sync my palm without the need to use the cradle. I am a graphic designer and whenever I have any ideas I use TextEdit on the mac to jot them down. Just before I leave home, I drag the file to Bluetooth File Exchange (more on that next), select my tungsten, press ok and wham its on my palm. That easy. Sending files from the tungsten to the Mac is also that easy. Bluetooth makes everyting easier!
PICTURES GALORE
I have some pictures of my Tungsten, T68i, bluetooth adapter and my ibook while I am on the road and at home. You can see how I am connected to slashdot from within my car near the Kuwait Towers. I can get online from anywhere I want, no need for an airport card or any wifi signals. I could be in the middle of the desert surfing the web!
Click here to see the pictures
BLUETOOTH FILE EXCHANGE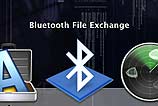 If you check your utilities folder in you Applications folder, you should find a program called Bluetooth File Exchange. I have this application in my dock. I use it to send files either to my phone, to my tungsten or to any other bluetooth device in range. Basically its a bluetooth filetransfer program and its great. All I do is select a file, drag it down to the dock over the icon and program opens asking me to choose a device I want to send to. I choose Tungsten for example and the file gets transfered. You can use this application to send ringtones or images to your phone!
CONTROL YOUR MAC WITH YOUR PHONE!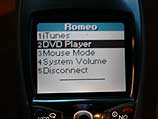 There is a free software out now called ROMEO. It allows you to control your mac from your t68i. Once you set it up you get a new menu on your phone which allows you to control whatever you want on your Mac. By default it comes with options to control itunes, the DVD player, Powerpoint, Keynote and the Mouse. You can customize other options. Not only that but you can set it up so that once your phone goes out of bluetooth range you can make it run the screensaver on your Mac for example and pause Itunes, and then when you come back to stop the screensaver and play itunes. All this and its FREE and ONLY for the t68i! Click here to get the software.
Step By Step Guides
STEP BY STEP GUIDE TO CONNECTING THE SONY ERICSSON T68I TO MAC
1- In the system prefrences click on Bluetooth
2- Then Click on Devices
3- On your t68i put bluetooth on discoverable mode
4- Click on Pair New Device
5- Enter a passkey (anything you want, it will be used once only)
6- On the t68i you should get 3 options, choose "Add to paired" then enter passkey
7- On the mac now you should get screen of services to choose with your phone, select all
8- Thats it, if you open address book now and click on the bluetooth icon it should connect to your phone. Try calling your mobile number and see if your address book gives you the Answer option.

STEP BY STEP GUIDE TO SETTING UP MAC TO USE PHONES GPRS
1- In the system prefrencs click on Network
2- Where it says "Show", click on that drop down menu and choose USB Bluetooth Modem Adapter
3- In the PPP section you fill in the details which you get from your GPRS provider
4- This is the important part, go to the Bluetooth Modem section
5- In the Modem drop down menu choose Ericsson Infrared. Yes you WILL be connecting via bluetooth but the settings for the modem are the same for Infrared and bluetooth. Although you will choose Ericsson Infrared here you will connect via bluetooth.
STEP BY STEP GUIDE TO CONNECTING THE PALM TUNGSTEN TO THE MAC
Very Similar process to setting up the t68i.
FINAL WORDS
Bluetooth
Bluetooth is great, its practical and its cheap, everyone knows that. Combine bluetooth with Macs though and you will start to wonder how you survived this long without this killer combo. Keep an eye on your phone bill though because I am sending SMS messages as if I was chatting on MSN!

Mobile Phones
You don't have to use the t68i only, but it is one of the phones recommended by Apple. The cool P800 should be compatible with the Mac soon but I prefer the Tungsten-t68i combo instead.

PDAs
The Tungsten T is tiny and thats why I love it. Its fast, a lot faster then my clie, the screen is gorgeous and most importantly it has bluetooth built in. The convinence offered by this is unmatchable.
.
Buetooth Adapters
I have had the IOGEAR adapter for over 3 months now and I take it goes to work with me everyday and back again. This means I unplug it atleast 4 times a day and I have to say the adapter is still very sturdy and unworn. It looks new. I have it in my pocket all the time so you can imagine what it goes through everyday. I would definetly buy it again if I went back in time.

I just purchased the Dlink adapter last week and I also like it a lot. Its soo tiny!

Below I have pictures of the unpacking plus links to really cool resources..
USEFUL SOFTWARE AND RESOURCES
Sony Ericsson modem scripts for OS X
Ericsson Client
Theme Edit
Apples Address Book for sending and receiving SMS
Apples Isync for synching
Beem backgrounds and ringtones for your t68i from your palm
OS X Skin for the Clie